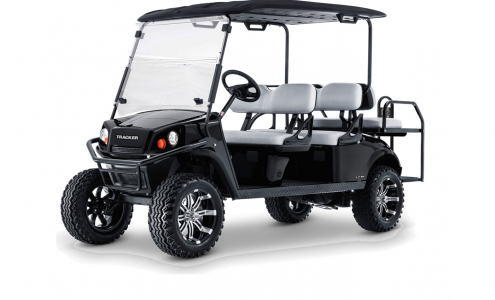 Canadian Price
$14,799
CAD
or
$105
Biwkly
Photos may show optional equipment.
Specs and features subject to change without notice.
Description
EXPAND YOUR POSSE
The more the merrier. Bring them along with you in this six-passenger fun machine. With its 13.5-hp fuel efficient EFI gas engine, rugged tires, and higher ground clearance, the TRACKER LX6 will take you all down the trail or across the campground in comfort and style.
23" All-Terrain Tires

82" Hard Top

Dashboard Storage Pockets

Headlights, Taillights and Brake Lights

Low Oil Indicator

Fuel Gauge

Fold-Down Windshield

Strut Kit
Specs & Layout
Specifications
Specifications
Fuel Capacity
5.96 gal (22.6 L) Tank
Overall Length
143.5 in (364 cm)
Drivetrain
CVT
Overall Width
49 in (124.5 cm)
Transaxle
Differential with Helical Gears
Overall Height (w/o Roof)
52.5 in (133.4 cm)
Direction Selector
Forward-Reverse
Overall Height (w/ Roof)
77.5 in (196.9 cm)
Rear Axle Ratio
11.47:1 (Forward) 14.35:1 (Reverse)
Wheelbase
96.5 in (245.1 cm)
Dry Weight (W/O Batteries)
970 lb (445 kg)
Front Wheel Track
38.5 in (97.8 cm)
Curb Weight
1020 lb (465 kg)
Rear Wheel Track
39 in (99.1 cm)
Vehicle Load Capacity
1200 lb (544 kg)
Ground Clearance @ Differential
7.0 in (18 cm)
Outside Clearance Circle
25.5 ft (7.8m)
Power Source
4 Cycle, 24.5 cu in (401 cc)
High Speed (Level Ground)
16.5 mph ± 0.5 mph (26 kph ± 0.8 kph)
Valve Train
Single Cylinder OHV
Low Speed (Level Ground)
N/A
Fuel System
Electronic Fuel Injection (EFI)
Steering
Self-Compensating Rack and Pinion
Horsepower (KW)
13.5 hp (10.1 kW) Exceeds SAE J1940 Std
Suspension
Leaf Springs with Hydraulic Shock Absorbers
Electrical System
Starter/Generator - Solid State Regulator
Service Brake
Rear Wheel Mechanical Self-Adjusting Drum, Regenerative Braking
Batteries (Qty/Type)
One, 12 Volt Maintenance Free
Parking Brake
Self-Compensating, Single Point Engagement
Key or Pedal Start
Pedal
Tires
23 x 10 - 14 on Alloy Wheel
Air Cleaner
Replaceable Dry Cartridge
Frame
Welded Steel with Powder-Coat Protection
Lubrication
Pressurized Oil System
Body & Finish
Injection Molded TPO
Oil Filter
Spin-On
COLOR OPTIONS
Red, Black
Cooling System
Air Cooled
Move pointer over boat to open/close compartments.
Features
Additional Accessories
ROAD RUNNER PACKAGE

5 Panel Rearview Mirror Kit
Turn Signal Kit
4 Passenger Seat Belt Kit
2 Passenger Seat Belt Kit

Package Price: $589.00 CAD